There was a positive surprise out of Indonesia's trade data for December with export growth coming in strong at 10.3% on-year, leading to a trade surplus of US$1.5 billion for the month. Not only is this the largest trade surplus since November 2011 but it also materialises despite import numbers falling 0.8% on-year in December, a smaller-than-expected contraction. This is important as unlike trade figures for October and November, the trade surplus was not purely a result of a weak domestic demand.
There are more reasons for cheer now as this is likely to mean a further narrowing of the current account deficit in the December quarter. Barring any significant moves in global financial markets, Bank Indonesia may continue to stand pat on interest rates next week.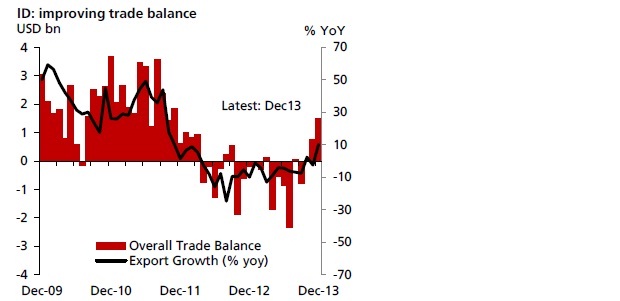 Yet, this may not necessarily be the start of a new trend. The strong 10.3% on-year export growth is likely to be temporary. Export of ores jumped quite significantly in the month, presumably as exporters offloaded their goods before the export ban in January. It remains to be seen then how the January exports data will turn out but another double-digit expansion looks unlikely at this juncture.
Meanwhile, we continue to see evidence that investment growth has remained weak. Total imports of capital goods fell 19% on-year in the December quarter, dragged lower by a weak rupiah. The one key assumption for our 6.0% on-year GDP growth forecast for 2014 is a less volatile currency compared with 2013, which should ease pressure on investment growth this year. Stay tuned on this front.