US labour reports revealed last week serve as a reminder that growth isn't as fast as it should be and plenty of risks remain on the horizon. Non-farm payrolls rose by a mere 74,000 in December, the lowest in three years,
and another 350,000 dropped out of the labour force making it 885,000 – nearly a million people – to have done so over the past six months. Yes, the weather was a factor. Everybody and their brother have said so. But if the weather was such an obvious factor, why wasn't it built into consensus forecasts? Seems like an 'obvious' thing to do.

The fact is, US labour market strength isn't as strong as it was purported to be and it's not just December. Payrolls have averaged 172,000 for the past three months – that's 11,000 less than six months ago. The household measure of job growth is far lower and has deteriorated far more.
Whichever measure you pick, it's not a picture of strength. And why should it be? GDP has grown by 2% over the past four quarters. Productivity continues to grow at a 1.5% rate. That leaves 0.5% growth in demand for new workers, which translates into non-farm payrolls of 30,000 per month.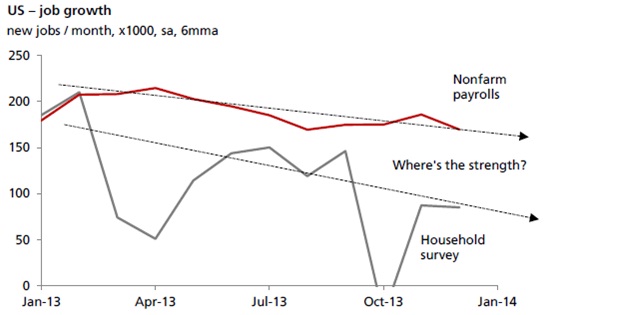 Working age Americans continue to multiply at a rate of 0.6% - 0.7% per year. Which means that 0.5% growth in labour demand doesn't even absorb new entrants into the labour market. This goes a long way towards explaining why 885,000 people have dropped out of the labour force in the past six months and why the 6.7% unemployment rate doesn't mean very much.