Inflation is rising in Malaysia. The November consumer price index (CPI) inflation registered 2.9% while the December data due Thursday should see inflation climbing higher to 3.1% on-year, up from a mere 1.3% just 12 months ago.
The spike up comes on the back of fuel price increases in Sep­tember.
To rein in a deteriorating fiscal balance, the government cut both Ron 95 petrol and diesel subsidies by 0.20 ringgit per litre. This raised the pump prices for Ron 95 petrol to 2.10 ringgit per litre and diesel to 2.00 ringgit per litre, up from 1.90 ringgit and 1.80 ringgit, respectively.
While this will save the government about 3.3 billion ringgit a year, the inflation­ary impact was reflected in the headline inflation number. Transport inflation has averaged 4.8% between September to November, up from an average 0.5% in the first eight months of last year.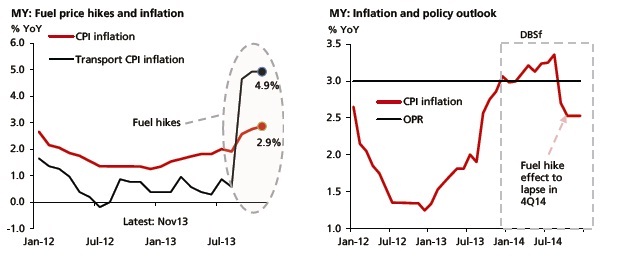 Near term inflation will rise above the overnight policy rate (OPR), which is currently at 3.00%. This makes for a negative real policy rate, therefore raising the odds of a rate hike by the central bank to normalise the interest rate.
However, we reckon that the central bank will maintain the OPR at the current level of 3.00% right through the year. Although inflation will stay above the 3.00%-level in the coming months, it is largely due to the low base last year as well as the one-off fuel price hikes.
As seen in previous cases, the effect of such a policy shift tends to be transient. Our estimate shows inflation will likely ease to about 2.5% by September this year when the base effect of the fuel hikes has lapsed.
Based on the central bank's track record, it does not have a habit of tight­ening monetary policy just to address a temporary increase in inflation. In fact, if Bank Negara Malaysia wants to pre-empt higher inflation after the fuel price hikes, it would have tightened monetary policy in the last policy meeting in November. The September infla­tion reading available prior to the policy meeting had already picked up to 2.6% on-year, up from 1.9% the month before