Bank Negara Malaysia is expected to keep the overnight policy rate (OPR) un¬changed at its Wednesday's meeting. This is despite the fact that December consumer price index (CPI) inflation rose to 3.2%, the highest reading since
November 2011, which puts the real policy rate squarely in negative territory. As a result, rate hike expectations have emerged. The three-month Kuala Lumpur interbank offered rate (KLIBOR) recently spiked to about 3.32% before stabilising at 3.29%.
While inflation will stay above the 3.00% level in the coming months, it is largely due to the low base last year as well as the one-off fuel price hikes. Once the effect wears off, inflation is likely ease below 3.0% again to about 2.5% by September this year.
The central bank does not have a track record of tightening mon¬etary policy every time inflation rises above its policy rate. If Bank Negara Malaysia wanted to pre-empt the higher inflation after the fuel price hikes, it would have tightened at its last policy meeting in November. September's inflation reading available prior to the policy meeting had already picked up to 2.6% on-year, up from 1.9% the month before.
Neither are there any pressures to hike rates from the growth front. While head¬line GDP growth improved marginally to a seasonally adjusted annual rate of 6.9% on-quarter in the September quarter from 6.5% in the previous quarter, growth in domestic demand moderated to 8.6% from a ro¬bust 12.1% during the same period. According to leading indicators such as the business and consumer sentiment indexes from Malaysian Institute Economic Research, domestic demand is likely to grow at an even slower pace go¬ing forward.
Finally, the output gap analysis does not suggest a significant build-up in domestic inflationary pressure. Although the output gap turned positive to 0.9% of GDP in the September quarter, it is not anywhere near the strong levels that triggered rate hikes in the past.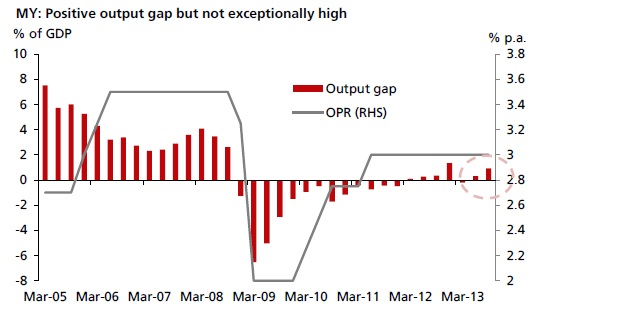 In short, monetary policy is likely to tolerate negative real policy rates in the coming months. The central bank will balance policy between the short-term rise in inflation from the fuel subsidy cuts and the medium-term moderation in domestic demand growth.
The easing in domestic demand will have a cooling effect on inflation. Hence, we maintain the view for the central bank to keep the OPR at the current level of 3.00% for the rest of the year.